About Jagdish Rice Mills
Having an increased customer-base is a trait of quality-focused, progressive and a client-focused company. Possessing aforesaid qualities, we have been enjoying support of a very large customer-base that place repeated orders to us for availing quality-best
Premium Basmati Rice, Pure Basmati Rice, White Basmati Rice, Long Grain Basmati Rice, Aromatic Basmati Rice
and much more.
We are operating in this competitive business structure by embracing business roles of
manufacturer, trader
and
exporter
. Till date, we haven't received single complaint pertaining to quality of offered line. Reason behind this lies in the reliable source, from which range is procured. Our sourcing partners are highly quality-focused and this is well-depicted in the perfection with which they process offered line.
We leave no stone unturned in making clients have nothing below the quality-best. Our Jalalabad based company owns a voluminous testing space where prior getting supplied, offered line undergoes a wide series of quality checks. This is done to annihilate possibilities of errors in range.
Packaging & Warehousing
Packaging and warehousing are two factors, which have made us earn praise in this competitive structure. Our company carries out business operations with great perfection. Offered line is well-kept in spacious warehousing facility. In this facility, we store offerings category wise. This well-keeping of products category wise helps product identification at the time of shipment. Our business entity makes use of strong food grade packaging materials. These materials prior getting used, are examined on several quality and safety parameters. Our company uses innovative packaging machines to make packaging, a hassle-free process. On the packaging cover of our Basmati Rice, we provide information pertaining to nutritional facts and ingredients used.
Reasons To Choose Us
Our Jalalabad settled company, is highly ethical. We work with great perfection and leave no scope for errors in execution of business operations.
We work on customer-focused ideology. Clients are treated well by us. We keep them updated about additions in product-line.
Our business entity shares strong bonds with sourcing partners. Interests of business associates are kept in view while forming business policies.
We have partnered ourselves with some renowned logistics companies. These companies help us in delivering Long Grain White Basmati Rice, Aromatic Basmati Rice, etc.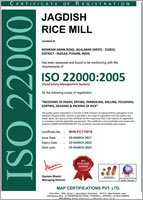 Read More